SRAM Deraileur for MCR
Our journey to CAD design and metal CNC/3D print a custom front deraileur for SRAM on the mighty Giant MCR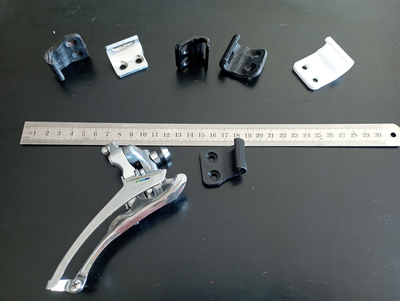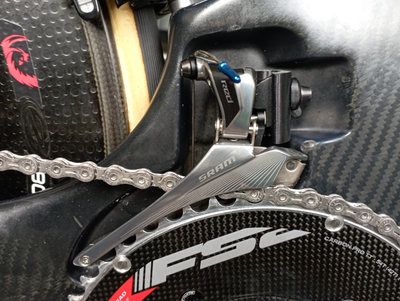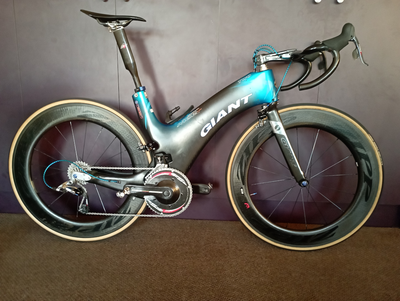 The Problem
The Giant MCR was produced from 1997-2000; a short production run as the UCI banned monocoque and other non-parallelogram frames in 1998; essentially destroying frame innovation to this day.
This project is aimed at taking this 1998 MCR Two frame and updating it with the best modern cycle engineering of today. The bicycle industry is inundated with marketing over engineering - so this is no easy task.
What does appear to be a genuine innovation is SRAM's yaw-angle front deraileur. Rather than simply tracking in-and-out, this also pivots - creating a fan-angle tracking the chain across the cassette.
We are sold on this; and thus have ditched the Shimano for SRAM. The SRAM derailer; unfortunately; has a much longer mount/pivot quite quite different to the Shimano - necessitating a custom hanger. The deraileur must fit within the recess in the frame; and whereas with a tube frame where you could simply bend a hanger and/or adjust the mechanism to fit; that is not possible within the limitations of the monocoque.
The Solution
We started with the open source CAD site, GrabCAD and found a Deraileur Hanger. Unfortunately, this design uses Solidworks, a properietry solution; and incompatible with FreeCAD.
A bunch of iterations later; printed and tested with filament; we're confident we're ready for a production run. Interestingly, none of our prototypes have proven strong enough to actually work in the field - the small amount of flex induced when attempting to shift to the top chainring means we've not actually been able to confirm with static testing.
If you're an industry participant we've reached out to for CNC/3D printing; you may download our STL.
Specifications
TBD